Kershaw Hotwire Knife Speedsafe Assisted Opening Pocket Knife 1310WM
Kershaw's website makes a few claims regarding this knife. They say that it opens easily, cuts through rope, tape, and other materials. They call it a camping and hunting knife that is easy to carry. Let's examine these claims
First Thoughts.
First, the opening mechanism is smooth as butter. It's easy to access and opens without resistance. The locking mechanism is stable and holds the blade securely. The shape of the blade makes sure that the knife can penetrate even when the blade has lost its edge, and the handle is comfortable in hand.
Cutting.
Can it cut rope, tape, and other materials? Well that's a pretty general claim for a knife. It can cut thinner ropes but is unsuited for heavier tasks. I have never had an issue cutting tape with this knife and I suppose that "other materials" is a vague enough claim that I have no choice but to let it slide.
Is it a good camping and hunting knife?  That depends on the type of camping or hunting you are doing.  I have found it quite suitable for dressing small game and fish. When attempting to field dress multiple deer with this knife I found it unsuitable for skinning or butchering large game.  I attempted to dress a cow elk and gave up after being unable to penetrate the hide.  However, for trout the blade slides in and cuts exactly as is required.  I use a knife very little on birds but did find this suitable to assist with skinning and gutting and it has worked without issue on numerous rabbits and hares.  So long as your intended quarry is not an ungulate, this may be a suitable knife for you.
Carry.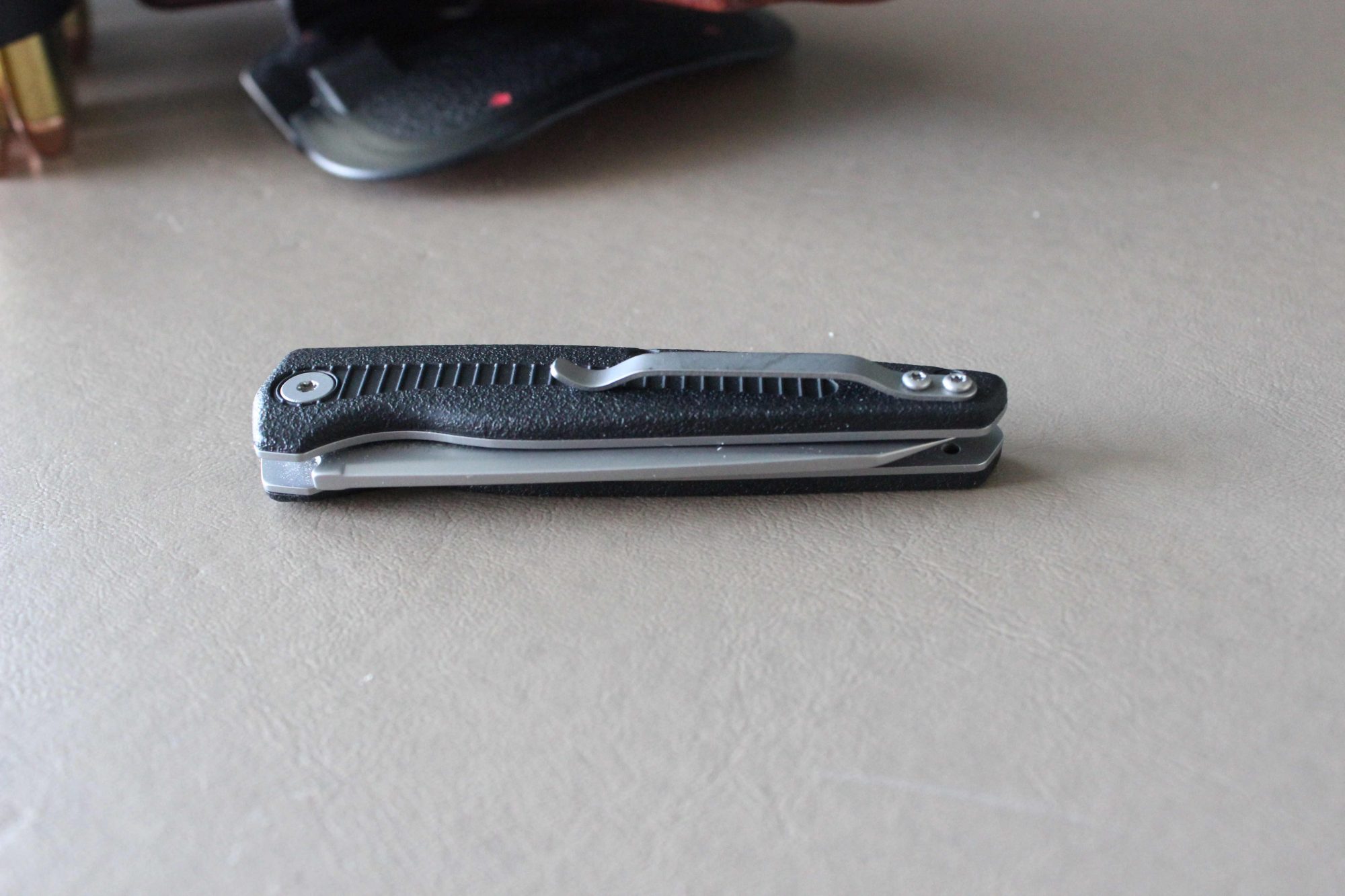 Is it easy to carry? The clip on the side is quite tight and thin. It can be difficult to place in your pocket without applying effort, and the shape of the knife makes it so that instead of resting at the corner of your pocket, it sits about a half inch from the edge. These all contribute to a knife that is slightly awkward to carry.
Overall.
What this knife is not is a self defense tool. We examine knives for a few properties when looking for their lethality. These are generally depth of penetration and the size of the cavity they produce. The length of the blade would make for adequate penetration, but the width will not create a large wound channel. While the knife is comfortable enough in hand for everyday cutting applications, it becomes uncomfortable when switching to the knife grips that I am most comfortable with using.
In summary, I carried this knife for over a year for Live Red-E, always having it on my person or in my truck. It has come in handy numerous times as a back up knife used for small tasks or dressing small game and fish. It is unsuitable for heavy cutting because of how thin the blade is, and it is not a comfortable knife for every day carry. Given the low retail price, I think that many people would benefit from having one of these around for those days where you have forgotten your favorite knife.