KT-Mech Akela: It's not good, but it might be good enough.
As you may be able to tell by the subtitle, I am a fan of upfront conclusions. I don't think you should have to read to the end of this article to know everything I think about the Akela. If you want details about it, by all means carry on. However, the gist of it is that there are far better holster options for most guns, but some guns may not leave you with many other choices. If you choose this one, Loctite everything before you use it.
First, what does Kt-Mech do right? The holster was manufactured and shipped to me soon after I ordered it. The holster is sturdy, and after working out some kinks, has functioned quite well for me. I was concerned that the ALS style retention at the top would slow down my draw, but I've found that even when I game it by having the gun ready to pull out before I release the retention, I cannot beat the spring.
The retention is released by pushing sideways on a large button on the side of the holster. It's not very intuitive at first but becomes second nature as you practice with it. I have noticed that my body armor will activate the button from time to time, causing the retention to release, though it makes an obvious clicking sound when this happens and I've always been able to rectify the problem immediately.
The holster is also extremely bulky. It takes up a lot of space on my gun belt and some creative engineering probably could have shaved a few inches off its total size. I also wish that the optic housing had a cover. The lack of one can be an actual liability for real world work, as snow, sand, or French fries could all fall into the housing and block your sights. (Let's be honest, French fries is the most likely scenario.)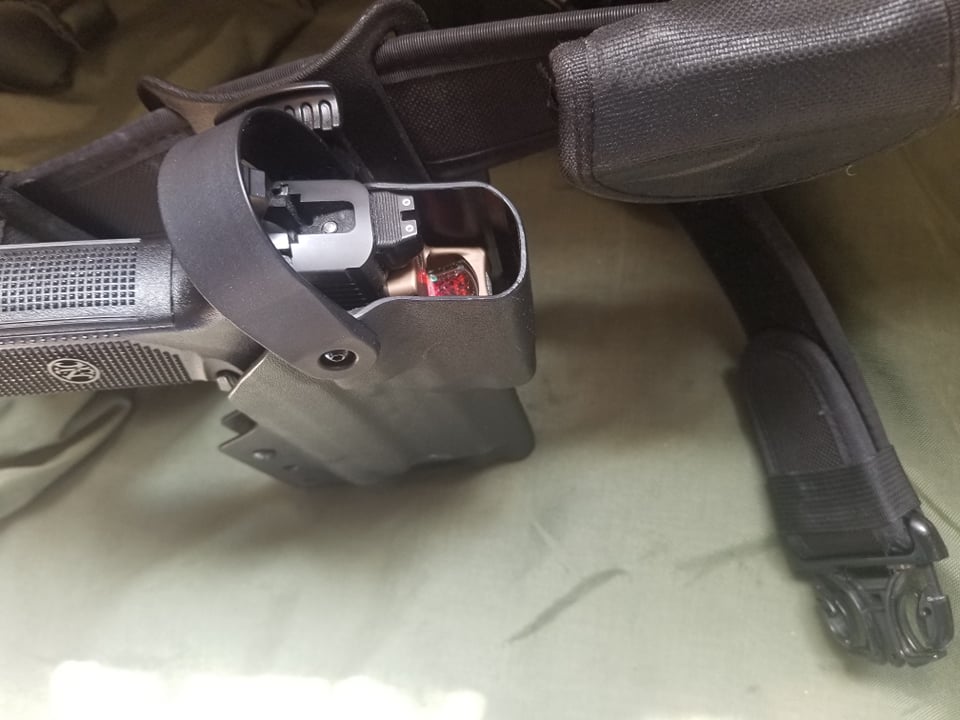 What does KT-Mech do wrong? Let's start with the most benign problems. First, the website looks like one designed on AngelFire by a middle school student in the early 2000's. The black background and neon text are garish and make the website look disreputable enough that I wouldn't have ordered from it if I hadn't seen several posts in forums and on facebook from people who seemed to have received the product they ordered. Furthermore, there is no option on the website for adding the housing for an optic or the liner to protect your finish. You must request these via e-mail and pay for them on a second invoice after you have already paid for the holster. I asked for both of these options, but my gun only came with the housing for the optic. That's okay, it just means that I don't have to throw my gun down the driveway to get that battle worn look we all know and love.
More troubling, after some dry fire, and only my second time shooting out of this holster, two of the three screws holding the holster to my belt worked loose and were lost in the desert. Without realizing this occurred, I holstered my gun and watched in horror as the holster swung on it's one remaining screw and dumped my pistol on the ground. This is frustrating to me but could have been deadly for the owner of a Sig P320. So, I put my Safariland ALS holster back on my gun belt and ran that until I received new screws.
Speaking of which, the customer service left much to be desired. When I asked KT-Mech about getting new screws they alluded to and e-mail where they said the screws came without Loctite on them. Upon reviewing my correspondences with the company, I found that they had said this in the last paragraph of a wall of text when I initiated my order. The company charged a whopping $10.00 dollars after shipping for the three new screws. While in the big scheme of things $10.00 dollars is not very much, I hated knowing that if they would just tell me the thread size and length of the screw, I could get it myself for pennies.
So, I got my new screws. I used Loctite on all of them. I was happy with my holster and ready to rock. Not more than a day or two after I put my holster back together, I set my hand on my gun and am amazed at how loose it is. I look down, and the retention screws that hold the holster together have worked loose and are gone! KT-Mech had explained to me that they do not Loctite the first screws because people often like to change the layout of their holster, IE they will add a QLS system or a Blackhawk Quick Disconnect, but I cannot for the life of me imagine why the screws that hold the body of the holster together would ever not be held with Loctite. I was able to recover one of the two screws this time, and it seems to hold together well with just that and some blue Loctite.
In conclusion, I don't think that their excuse for not applying Loctite holds any water. Blue Loctite could be used, and it would still be easy enough to change whatever set up the end user wanted. Their decision not to use Loctite, makes this holster dangerous to use for duty purposes if you don't realize that you need to apply it to every screw on the holster. The ergonomics could be improved, the customer service is atrocious, and the website is awful. If you have a more common gun like an M&P or a Glock, there is no reason to leave Safariland for this. If Safariland does not make a holster for you, and this is one of your few options, Loctite everything and enjoy your new holster.