AR-15 Red Dot Sight – Holosun 503 Series
If you're looking for a great AR-15 red dot sight, Holosun's 503 series is a great option. Holosun has a great program going. Basically their claim to fame is that their sights are solar powered. First you have their standard battery option, most of their products use a CR2032 lithium disk battery, and then secondly they come with a solar power supply, hence the name holo-"sun." This means that in addition to the 30,000 hours of battery life, you get an additional unlimited amount of power as long as the sight is exposed to the sun.
The model that I have is the HS503C. This is kind of the little brother in the line up, and the least expensive. This model is discontinued but the HS503CU is currently available. And the great thing about this newer model is that it has shake-awake technology. It shuts off the LED during periods of motionless, and then you shake the sight to wake it back up again. Some people really like the auto-on/off functionality. I think it would be great, however I'm perfectly happy with the manual controls. (If you have to switch between weapons, you might forget which of your optics are auto-on/off in the heat of the moment.)
Great Features
This sight is parallax free. It won't damage your eyes. It's got to side-mounted buttons that allow you to turn it on, change brightness and flip between auto and manual modes. They buttons are easy to operate. And it's waterproof (IP67). And of course you can mounted on any Picatinny or Weaver rail.
The sight comes with two bases. One of the mounts is low-profile. And the other is a one-third co-witness mount which puts your backup sights in the lower third of the visible optic area, if you ever need to pop them up and use them. This makes it perfect as an AR-15 red dot sight.
My model has two modes; auto and manual. In auto mode the retical automatically adjusts its brightness so that it matches ambient lighting. I find its auto settings very adequate. In manual mode, you use the plus and minus buttons on the side to change the brightness settings. Switching back and forth between modes is very simple.
The reticle on the 503 is a circle-dot. The circle is 65MOA. And the dot itself is two minutes of angle in size (2MOA). What that means is that at about 100 yards the circle represents an area of about 5 and 1/2 feet. The circle part of the reticle can be disabled pressing the minus button for three seconds, as long as you're in manual mode.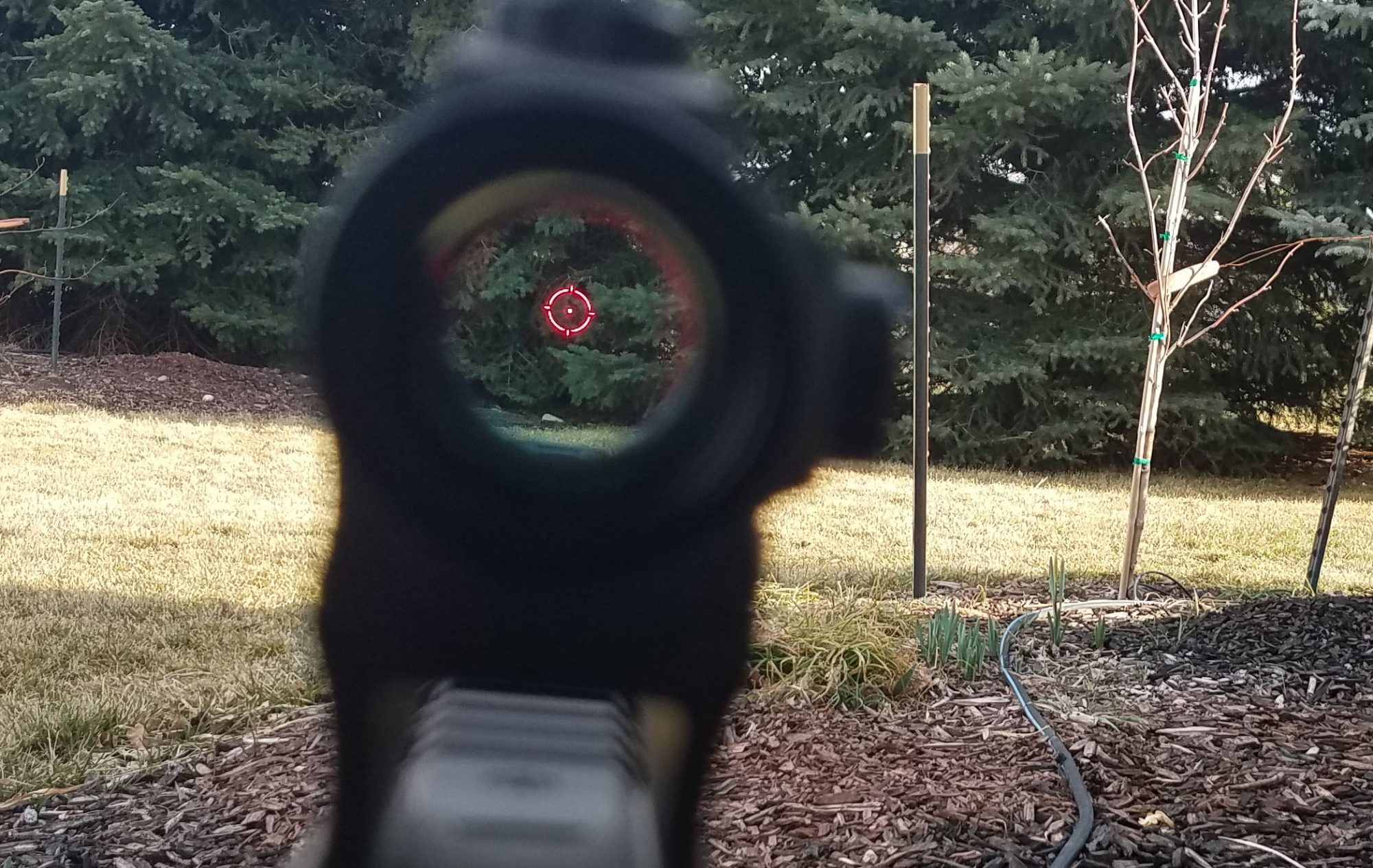 Setting Up Your AR-15 Red Dot Sight
Sighting in this AR-15 red dot sight is very simple. Just remove the two caps on the adjustment knobs and use a coin or a small screwdriver to make your adjustments. Each click on the knob is equivalent to 0.5 MOA in adjustment. Mine has held zero no problem. With the price of ammo being so high currently, you might want to invest in a bore sighter in order to get yourself on the paper. I Sighted my rifle in at 50 yards. If you zero at 50, basically you will be right on at 200 yards and only high by an inch or two at 100 yards.
My Holosun 503 came with a CR2032 lithium battery included. That's the same type of battery that is used in a lot of optics. (…and my welding helmet.) Like I said, theoretically this battery should last 30,000 hours in the Holosun HS503C sight. However you might want to pick up a few extras for the apocalypse which seems to be rapidly falling upon society. 😉 One nice thing about the set up is that you can change the battery without removing the sight from your rifle, which would require you to re-zero.
The Holosun 503 Performs Nicely

Target acquisition on the Holosun 503 is quick and easy. It is turned on by pressing either of the side buttons. It comes on immediately; no need to hold down either button. Although my version does not have the shake-awake function, bringing it up to the shoulder and pressing one of the buttons on the side is no problem. The reticle comes on quickly and bright. (Yes, it does remember your mode and settings.) There are 12 settings for brightness if you're using the manual. I haven't found a reason to take it out of auto mode other than to test. It does come on plenty bright if you jack it up in manual mode.
As far as the optic itself goes, I think the glass adequately clear and presents a clear sight picture. The field of view is not as large as an EoTech. Then again the sight itself is small and unobtrusive. Some might call that low-drag. Keeping both eyes open, I haven't really found it difficult to acquire a target at all. This AR-15 red dot is comparable in size with the other red dots on the market, some of which we will be reviewing on this sight. (Check out all of our red dot sight reviews.)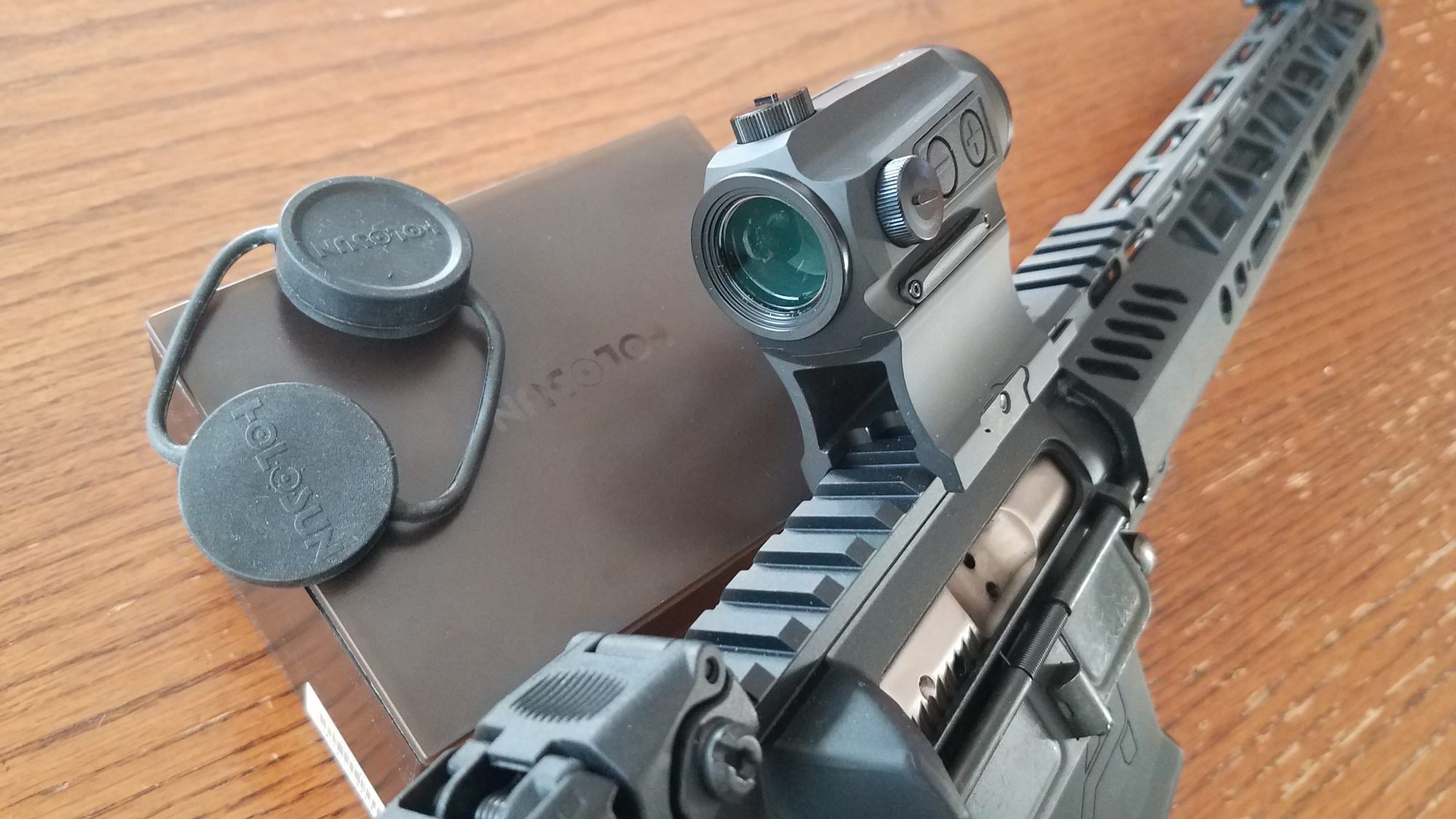 Durability and Maintenance
The fit and finish of this AR-15 red-dot sight is very nice, high quality. It was easy to sight in, and it's very durable. I'm not going to put my sight through a torture test just for this little review. You can go watch people beat them up on YouTube if you want. I'm pleased with what I have.
The Holosun 503 series is essentially maintenance free. You can clean the lenses just as you would any other sensitive optic like a camera or other scopes. Best thing to do first is to simply blow away the dust on the surface. It does come with a nice rubberized dust cover that you can easily pull down below the sight while using it, if you have the 1/3 co-witness base installed.
Holosun provides a limited lifetime warranty to the original purchaser. I haven't had any problems, and I haven't read about any negative customer service issues. As they say, your mileage may vary. I have been very pleased with this AR-15 red dot sight.
Check the web for the latest pricing on the Holosun HS503CU. I paid about $170 for the HS503C version two years ago. Prices on the HS503CU are more expensive, but then again you get the auto-on/off capabilities with the shake-awake function on the CU. If you purchase by clicking through this website it helps us to continue to put out content.
As always, Live Ready!