Kershaw Camp 10 Kukri Review
The Kershaw Camp 10 fixed-blade knife isn't exactly a true kukri. The 10 inch blade is very versatile, and it should be considered a kukri style blade rather than a true kukri blade. It's basically halfway in between the traditional kukri blade and a bolo knife. Kershaw calls the blade style "recurve," and classifies it as a machete. All that not with standing, blade design is excellent.
Kukri History

Traditional kukri blades have been around for a long time. They excel at chopping, and some consider them as good or better than a small hatchet. The kukri knife historically is thought to come from either India or Nepal. Some researchers trace its origins back to the domestic sickle. These knives are used in all sorts of applications. They have even historically been used in sacrificial ritual.
The curved blade on a kukri knife creates a wedge effect which causes the blade to cut effectively and deeply. Generally kukris are quite large and make excellent defense weapons, either against two or four legged creatures. In fact, the kukri blade would have been an excellent choice for the Crocodile Dundee scene where he says, "That's not a knife. Now that's a knife." You see, the blade bends towards the opponent. Whoever wields the knife need not angle the wrist while executing the chopping motion. Unlike a straight-edged sword, the angle of the kukri combined with its center of mass allows it to slice as it chops. This gives it a penetrative force disproportionate to its size.
Although the blade is designed primarily for chopping, kukris can be used to baton and split wood very effectively, especially once you get used to the dynamics of the blade. Generally a kukri knife is going to be quite durable, enough to be passed down from generation to generation if you've gotten a good make.
Some of the downsides to the kukri blade are these. They can be somewhat heavy or large for carrying around on your body. You want to make sure that you have a good scabbard. If used incorrectly, the large blade can be very dangerous. Finally there's a bit of a learning curve to sharpening the blade.
The Versatile Kershaw Camp 10
Now, once again, this Kershaw knife shouldn't be considered a true kukri, but it shares enough of a kukri's characteristics and is so similarly useful that I want to talk about it in that context.
The 10 inch Kershaw Camp 10 has a convex curve that makes it great for chopping and other heavy cutting tasks. And the inner concave half of the blade is very good for smaller tasks requiring finer control such as splitting small pieces for kindling or notching sticks that might be used with a bow drill or similar tasks. But again, it really excels as a chopping tool. Once you get the hang of it and find the sweet spot on the blade it allows you to make quick work of many tasks.
As far as construction goes, it's full tang 65Mn carbon steel blade has a medium-high carbon content that makes it tough and resilient. It is designed for hard use applications. The blade is powder coated. Kershaw describes the knife as "a powerful, intense, big machete, perfect for campsites or blazing a trail." The blade itself is 1/5th of an inch thick. (.2" or 5.08mm)
The handle on the Kershaw Camp 10 is very durable and reasonably comfortable. It's got a great grip with a rubber over-molded checkered diamond pattern. The non-slip grip adequately absorbs the shock when chopping. The curve of the handle gives it an ergonomic feel that allows you to use it for an extended period of time. The handle also has two lanyard holes drilled for optimal carrying options.
The sheath (or you may want to call it a scabbard at this size) is very nice. It's well-made for a blade of this size. It has a high belt loop and is meant to hang down on the leg, hence it's not going to interfere with your hips or midsection. The idea is that you would secure the bottom end of the sheath with a strap around the thigh which will keep it from flopping around. And it also has a retention strap with a thumb snap. This retains the blade well, and it's easy to get it out quickly. The scabbard could also be secured to your molle gear. The sheath is made of a material that is similar to Kydex. Kershaw calls the material glass–filled nylon. It comes with gear straps and the belt loop.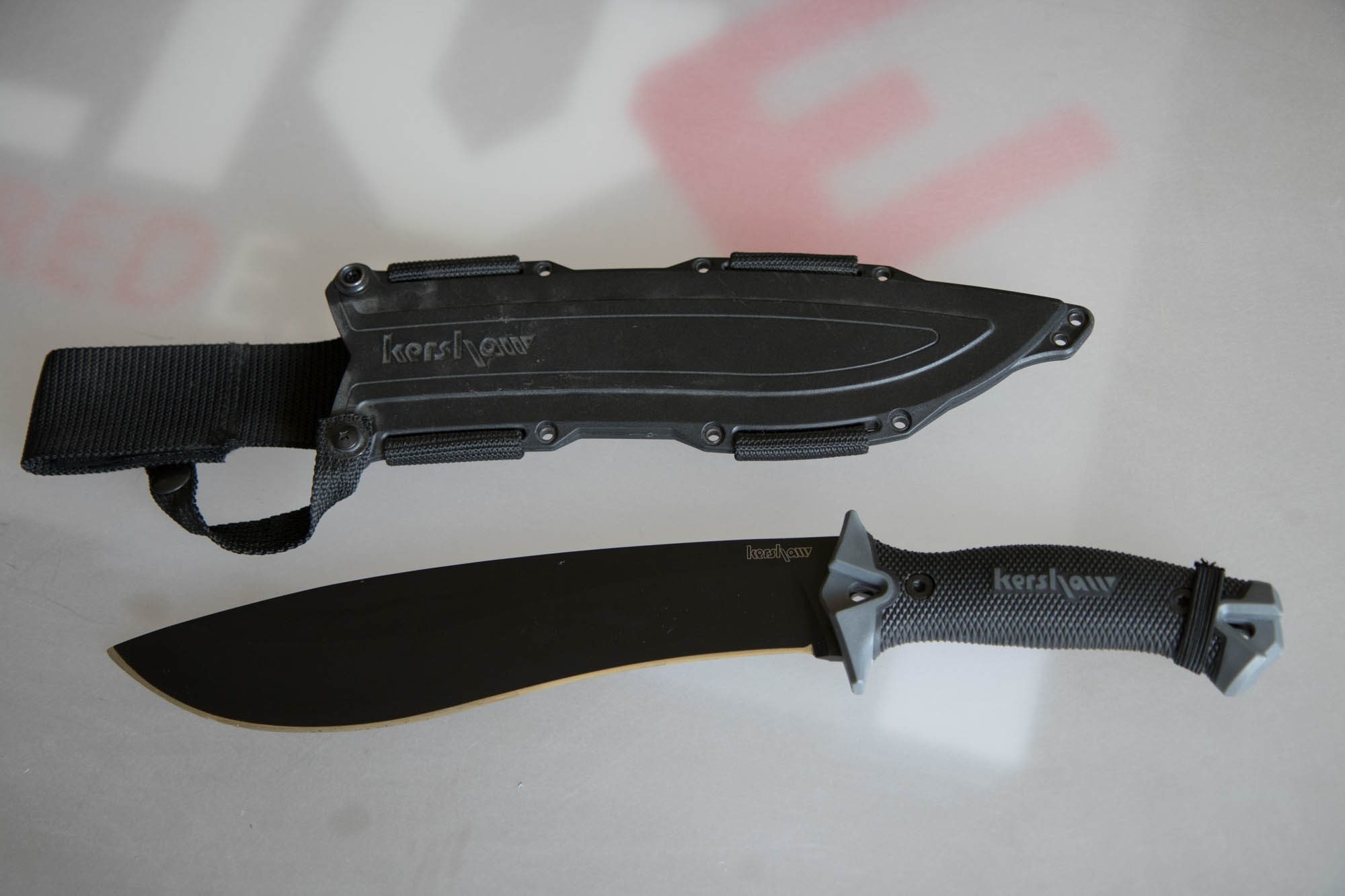 I personally don't see any serious drawbacks to the knife. I'll leave the splitting of hairs to these other reviewers. My philosophy is that both guns and knives are like tools in a toolbox. Why would you have just one wrench? Wouldn't you want to have a whole set? I've seen that some other reviewers have noted that perhaps the coating on the blade is a little bit thin. Kershaw calls the covering an "extremely durable basic black powder coating." They say that you should be able to "cut, hack, slash, strip and split nearly everything" with the Camp 10 kukri-style blade. So far I have yet to really give mine any hard use. I expect that the coating will degrade just like any other coated or painted knife. Just like with any knife you will need to maintain it to keep it rust free and make it last for generations. The thing to remember is this. The Kershaw Camp 10 is really affordable for the type of knife that you're getting.
Kershaw Warranty
Kershaw knives from Kai USA Ltd. carry a limited warranty for the lifetime of the original owner, except when stated otherwise. We guarantee our knives against manufacturing defects in material and construction and to perform as advertised when properly used and maintained. The Limited Lifetime Warranty is non-transferable and does not extend to normal signs of wear, rust, damage, or breakage due to improper use, improper maintenance, accidents, loss, or theft.

https://kershaw.kaiusa.com/warranty
The Kershaw Camp 10 is a very practical and great looking knife. Just its general appearance can be useful as a defensive measure. The knife is durable. I think mine will last for generations, especially with proper care. It's utility is undeniable. You could use it for clearing brush, chopping firewood, digging (although I wouldn't recommend it), slaughtering animals for food, cutting up vegetables, skinning animals, and even opening cans. As a close relative of the traditional kukri knife the Kershaw Camp 10's general camp and farm utility is frankly the stuff of legend.
Check out this knife by clicking the links on our site and it will help us out. As always, Live Ready!