As you can see from the picture, I'm a serious fan of TRU-SPEC's 24-7 series Ascent pants. It may be safe to say that I wear them ALL the time… even to bed. Okay, well the wife doesn't let me get away with that. But really, I am only exaggerating very slightly.
My love affair with these pants began several years ago when they first hit the market. I had previously been impressed with Tru-Spec's Lightweight Tactical pants. I went through three or four pairs; still have a couple that are in good shape. I just don't wear them much now that I have the Ascent version.
Tru-Spec's lightweight tactical pants are made with a polyester and cotton blend that is quite durable, however, it's somewhat rigid and doesn't stretch or give like the Ascent pant material. The lightweight tactical pants are a significant improvement over the 100% cotton version that came out first. That initial version could get really warm. I would consider it more a cold weather pant. The lightweight tactical version has great pockets. You can fit two AR mags in each large side pocket. Like the Ascent pant, it has an automatically adjusting slider waistband. All in all, I would consider the lightweight tactical pants pretty much "heavy- duty." They are comfortable enough, until you compare them to the Ascent pants.
By the way, Tru-Spec makes a "shorts" version of both the lightweight tactical pants and the Ascent pants. The tactical shorts run a bit short for me. The Ascent shorts are just perfect. (Tru-Spec Men's 24-7 Series Ascent Short)
Enter the TRU-SPEC's 24-7 series Ascent pant. After reading about the pants and looking at a few pictures, I figured I had better try them out. What did I have to loose? At the time they were about forty bucks.
Cutting-Edge Fabric

One of most outstanding characteristic of the Tru-Spec Ascent pants is the fabric. They describe it like this: "Cutting edge mechanical stretch 6.5oz. polyester cotton micro rip-stop fabric with a mechanical stretch that creates superior comfort and amazing ease of movement." YEP, that's no lie. These are really comfortable pants. They are some of the most easy to move in pants that I have owned. And yet they are still durable, functional and stylish.
Functional
The pants have a comfort fit slider waistband, similar to the lightweight tactical pants, snap closure with a solid YKK brass zipper. They have 2″ wide belt loops and a gusseted crotch. The front belt loops have slots allowing them to serve as badge holders.
The pockets on the Tru-Spec Ascent pants are excellent. They are stylishly integrated into the pants. The main cargo pockets are inset. They are really discrete and create a streamline appearance. The pants have a reinforced 2½" wide front knife/flashlight utility pocket on either side. I do like the knife pocket, however, it's location right on the side has made me worry that I might scrape my knife's pocket clip along someone's car in tight parking situations so my knife often ends up clipped into one of the main side pockets. (Check out my EDC pocket knife review.)
And there's also an easy access "drop-in" pocket measuring 4″ wide by 6.5″ deep behind each cargo pocket that accommodates most cell phones. These "drop-in" pockets have no closure or flap, so under certain circumstances you could loose your phone. Of course you also have the "butt" pockets on the backside and the traditional front trouser pockets. The back and main-side pockets close with Velcro and keep contents secure.
The Tru-Spec Ascent pants also have internal knee pockets for optional knee pads that are sold separately. I have tried the knee pads. They are very handy for many situations. They do get hot around the knees and change the streamlined appearance of the pants. But they are removable so it's really a nice option to have in case you need them.
Durable

All in all, these pants are exceptionally durable considering how comfortable they are. I ordered my first pair in 2016 and still wear them. I'm just now considering relegating that pair to "dirty/clothes damaging work duty." Full disclosure, I have repaired some of the seams where the stitching has come undone. I also tore a small hole in one of the side pockets, but the rip-stop fabric worked great and it hasn't gotten any bigger. Also, the fabric has become quite thin after so many washings. BUT IF YOU KNEW HOW OFTEN I WORE THIS PAIR OF PANTS YOU WOULD FIND THIS NOTHING SHORT OF MIRACULOUS. … maybe you would even find it ridiculous.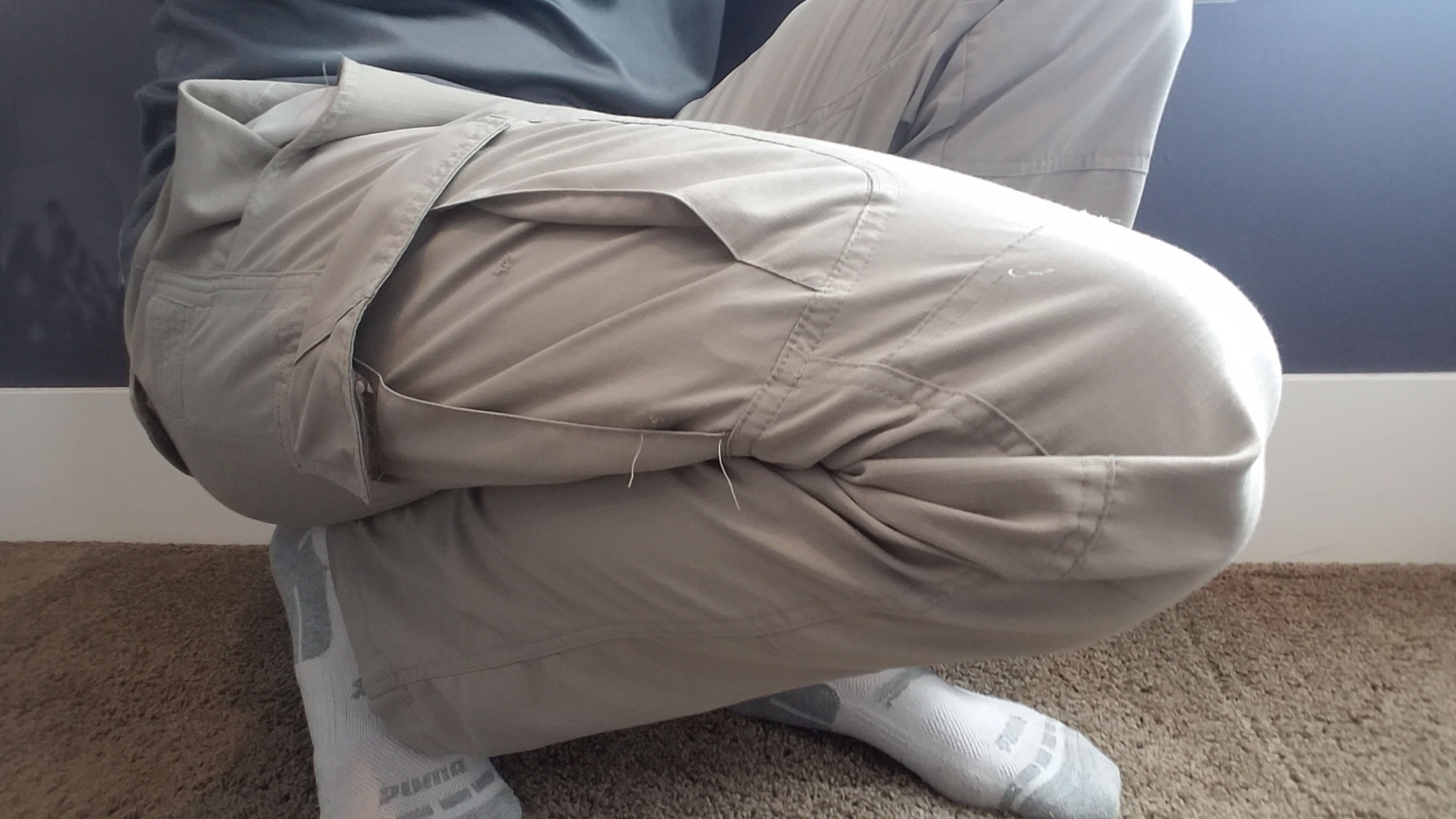 Stylish
Obviously beauty is in the eye of the beholder. I personally think the TRU-SPEC Ascent Pants look great. So, here's a question… Are the Ascent pants a true tactical pant? I think I might say probably not, but the issue isn't settled really. They are tactical but not so much tactical. I mean, did I mention they look great?
Here's the deal… If you think it tactically important to have excellent freedom of movement, quick drying and durable rip-stop fabric, serious cargo options, and the ability to clandestinely infiltrate the back-row pews in the outer limits of your local congregational church, all while maintaining the appearance of a man who knows how to take care of himself and is strangely not quite out of place but there's something very different about him… then, yes, the Tru-Spec Ascent pants ARE IN FACT tactical.
So… Yes, I've worn them to church… many times. My black pair is a little more subdued and has seen the inside of the chapel many times. But the khaki's are also no stranger to the meeting house either.
That being said, I would have no problem wearing and depending upon these pants in a tactical situation, especially in warm weather. If I must find some sort of negative to balance this otherwise glowing review, it would be this. If you're working where you're constantly rubbing up against really hard brush or outside in the winter, these pants might be a little lightweight. But in all other seasonal conditions, I find them excellent. You might say that the Tru-Spec Ascent pants are "tactical-lite."
Anyway, you may be interested to try a pair. If you buy through one of the links on this site it helps us out. And as always, Live Ready and stay cool… i.e. in your Ascent pants… and keep a cool head. And have fun out there … Things are getting crazy.