AcuRite Future Forecast – Is it accurate?
About a month ago I posted a review on the AcuRite 5-in-1 Weather Station. I have been monitoring several of them around town that I've set up for the purpose of monitoring wind speeds in the area. One of the features I really like about this home weather station is its future forecast function. In this article I'll show you how accurate the function is.
The AcuRite future forecast function is supposed to tell you what the weather is going to be like in the next 12-24 hours. In the manual AcuRite calls this the "Professional Weather Center." AcuRite has included this on all of its displays that go with the 5-in-1 weather stations. What happens is that the unit takes 14 days to calibrate itself. Then the manual says that "it generates a forecast with pinpoint accuracy – personalized for your exact location."
Well that's the question we're going to answer. How accurate have my forecasts been? Read on… I'll show you.
First off, if you have one of these stations you'll want to take a look at AcuRite's website and review all the possible forecast icons you'll see and what they mean. Click here to find the AcuRite forecast icons. You'll want to take some time and watch what icons it shows relative to the weather you're seeing outside, because an icon can't be as detailed as something like the NOAA's website. For example, one thing that I've noticed is that on cloudy days it often shows mostly cloudy, with a little sun peaking out. I think this is because I live out in the dry Western US, and what might look cloudy to me might be less cloudy than more humid areas where they get a lot more thick clouds.
How well does it forecast the weather?
In my earlier article about the AcuRite 5-in-1 Weather Station I mentioned that trying to forecast the weather past two or three days is really imprecise. You might as well flip a coin. When you're two or three days out, even the professionals can only forecast the weather with about 70% accuracy. It's the 12-24 hour forecast where our modern methods of forecasting get really accurate.
I think the AcuRite future forecast is pretty good actually. I think I could argue that it's almost always right. There have been a few times where it hasn't predicted a little bit of precipitation and we got just a bit. There have also been times where it has done the reverse. But again I think that's because we live in the west.
AcuRite compared to National Weather Service
My first comparison is from January 20th. You'll see that the AcuRite unit forecast mostly cloudy and snow. The National Weather Service forecast a 100% chance of snow. So here we had the two matching up pretty almost exactly.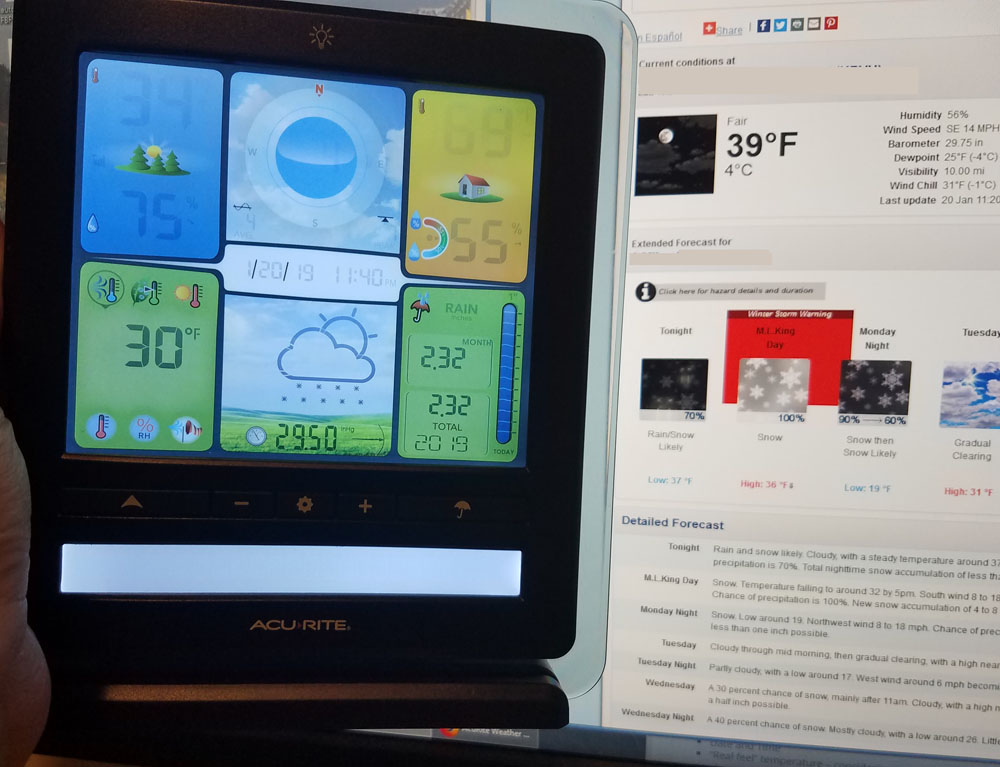 It did snow and was mostly cloudy all day.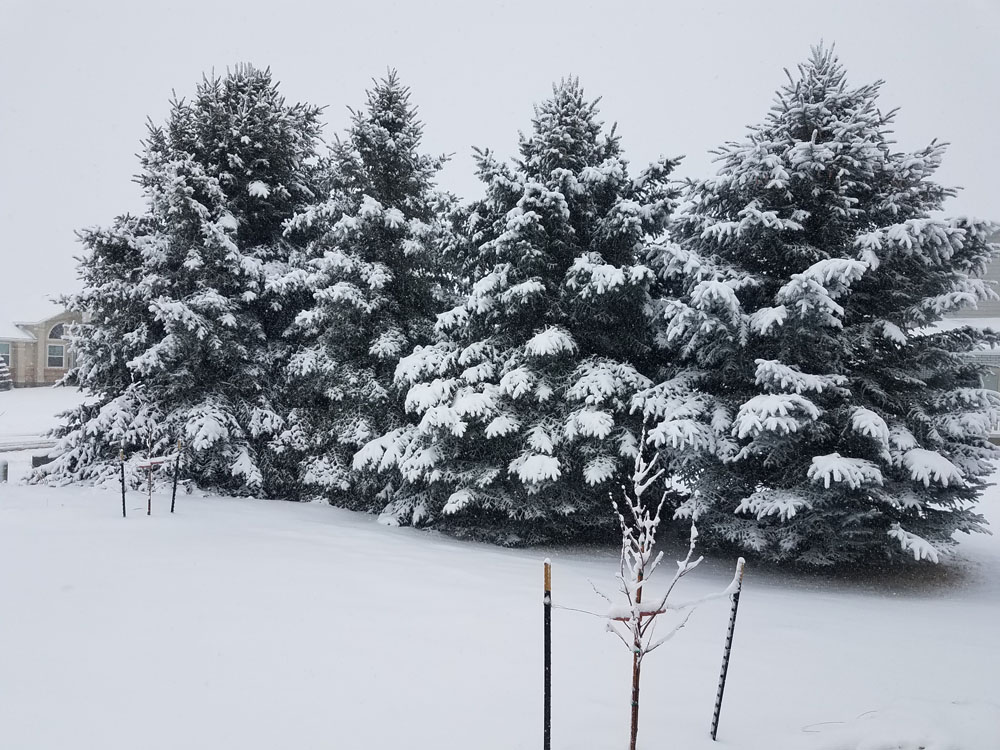 The next comparison was on January 21st. The NOAA (National Weather Service) forecast was mostly sunny. AcuRite forecast mostly cloudy. In the next 12-24 hours we had both.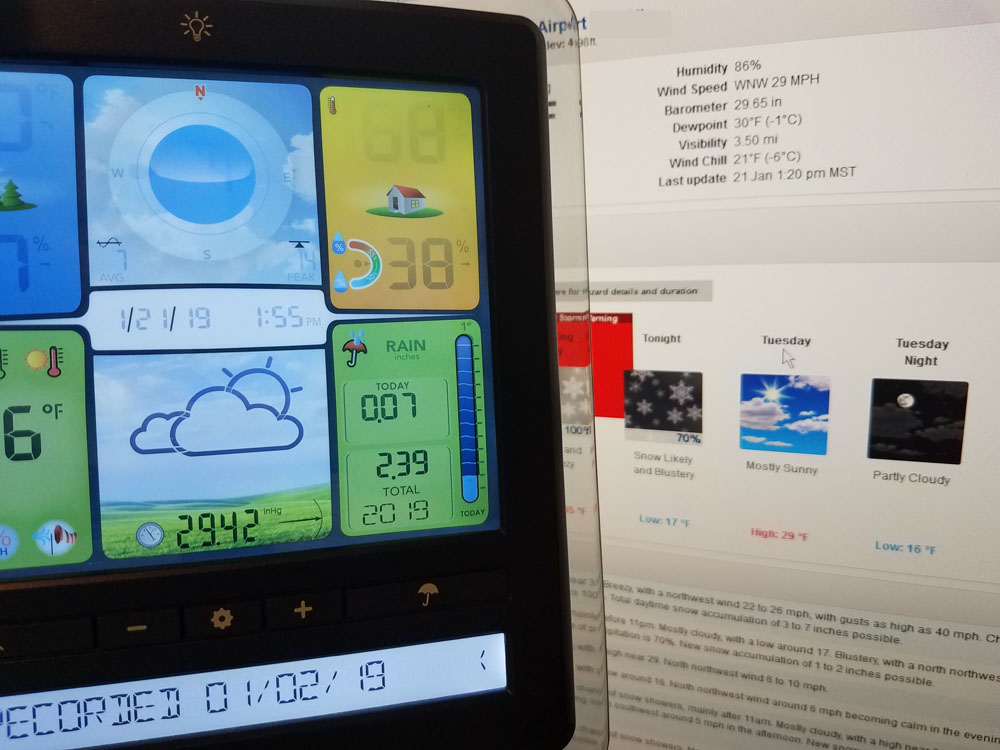 This picture below was taken when it was sunny the next day. They were both right though.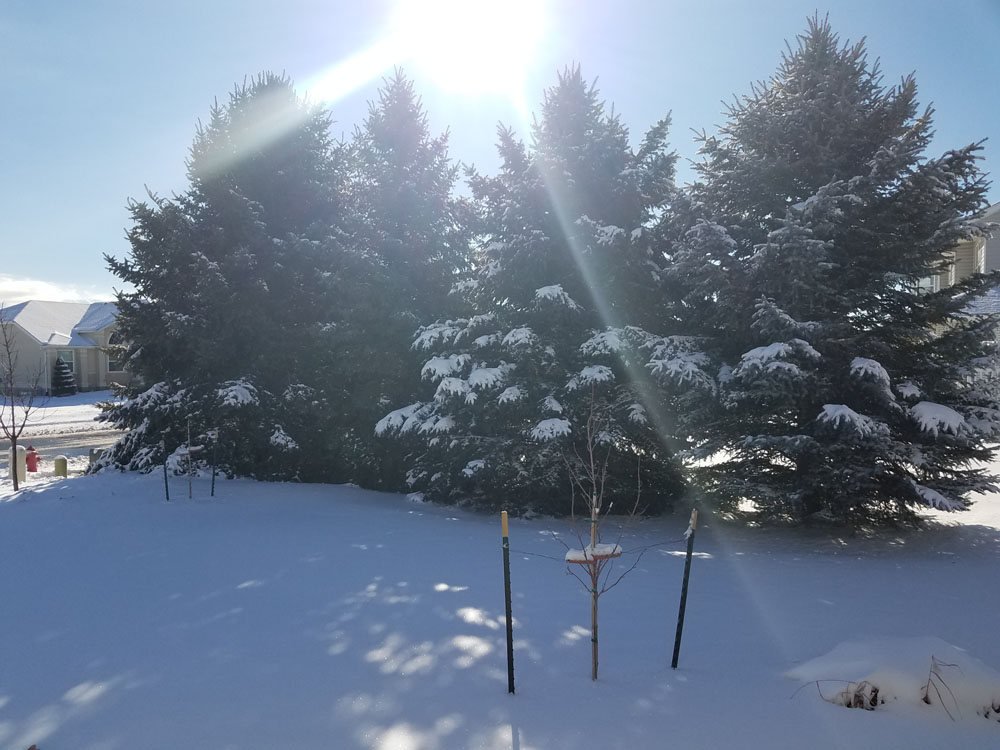 You know I broke my show shovel that day. It really sucks. It was supposed to be better than the other shovel. The sticker clearly states that it is lightweight poly-carbonate and is 12 times stronger than other shovels. I beg to differ. It's newer than the other shovel by several years and now it's done.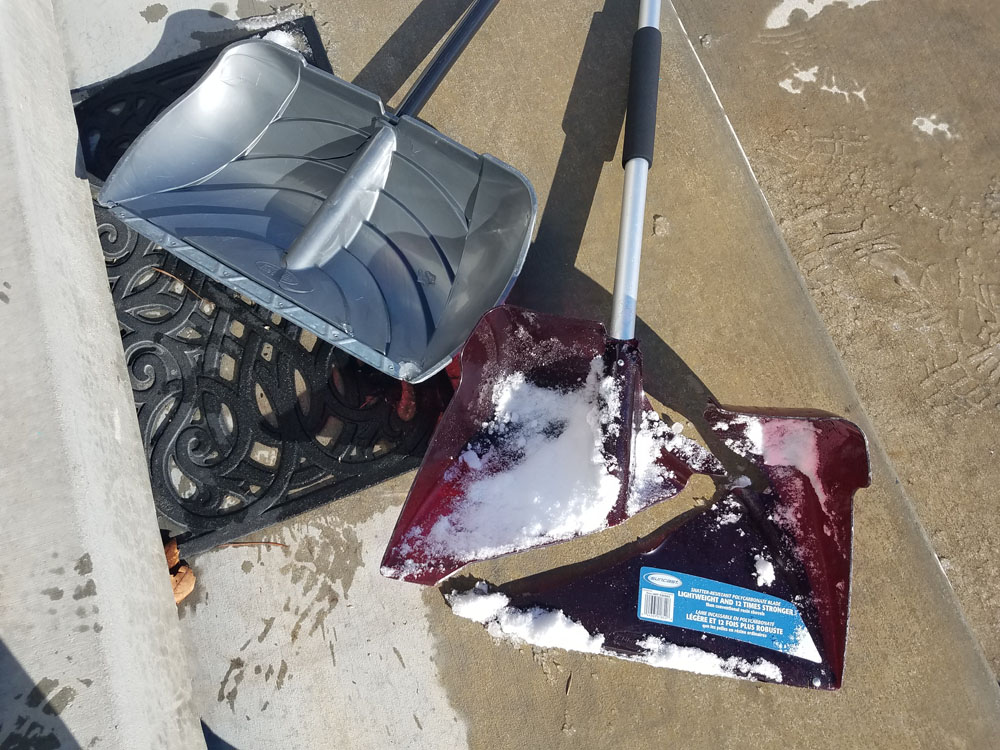 On January 22nd the AcuRite weather station accurately forecast a partially cloudy day. The NOAA had called for a 40% chance of light snow. It was pretty much partly cloudy and sunny that day. I'm not sure we would call this a conflicting forecast since the NOAA had a less than even chance of light snow.
On January 23rd my weather station and the NOAA both predicted mostly cloudy with snow and that is exactly what happened on the 24th.
Were there any conflicting forecasts?

On January 25th, my AcuRite Weather Station predicted a slight bit of rain. At the same time, the NOAA was saying it would be sunny the next day. What actually happened was that it was really pretty sunny. There was a very slight bit of light snow in the morning but not really much to speak of. Temperatures were above freezing during the day but no precipitation. Remember we're talking about a 12-24 hour forecast period here. So I'm not too worried about the AcuRite not getting it exactly right. I guess I could argue that it did get it right.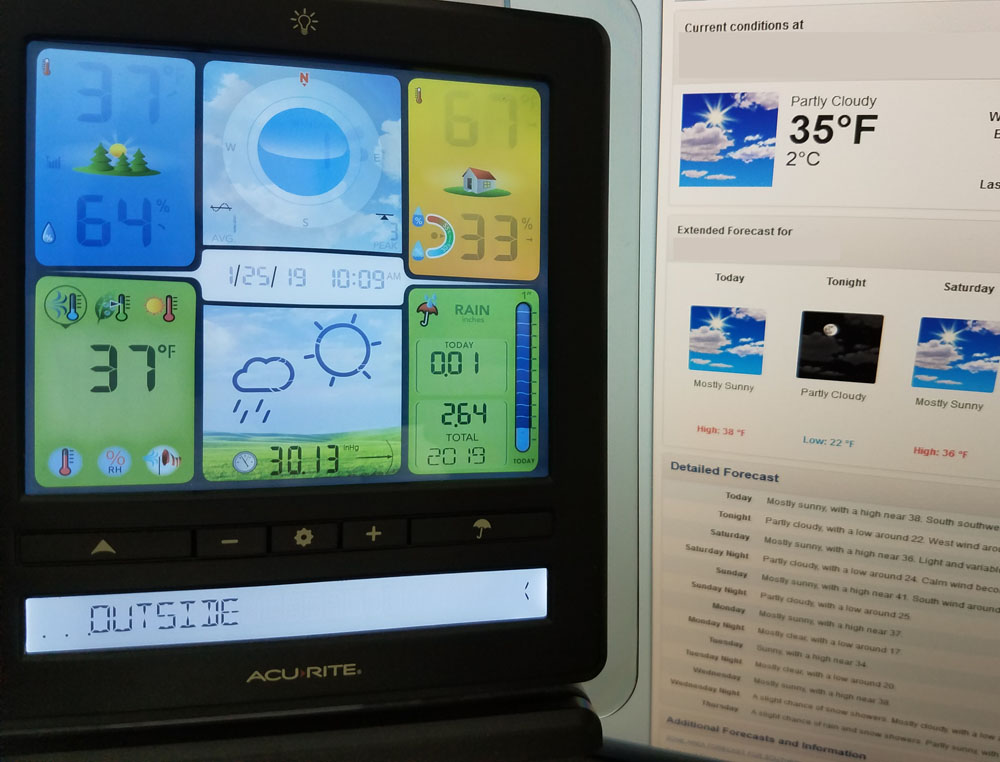 AcuRite future forecasts for January 26th through February matched up really well with the NOAA until last night. On February 5th as you can see below the AcuRite was forecasting mostly cloudy with a little sun. And the NOAA was forcasting an 80% chance of snow, accumulation of about an inch possible.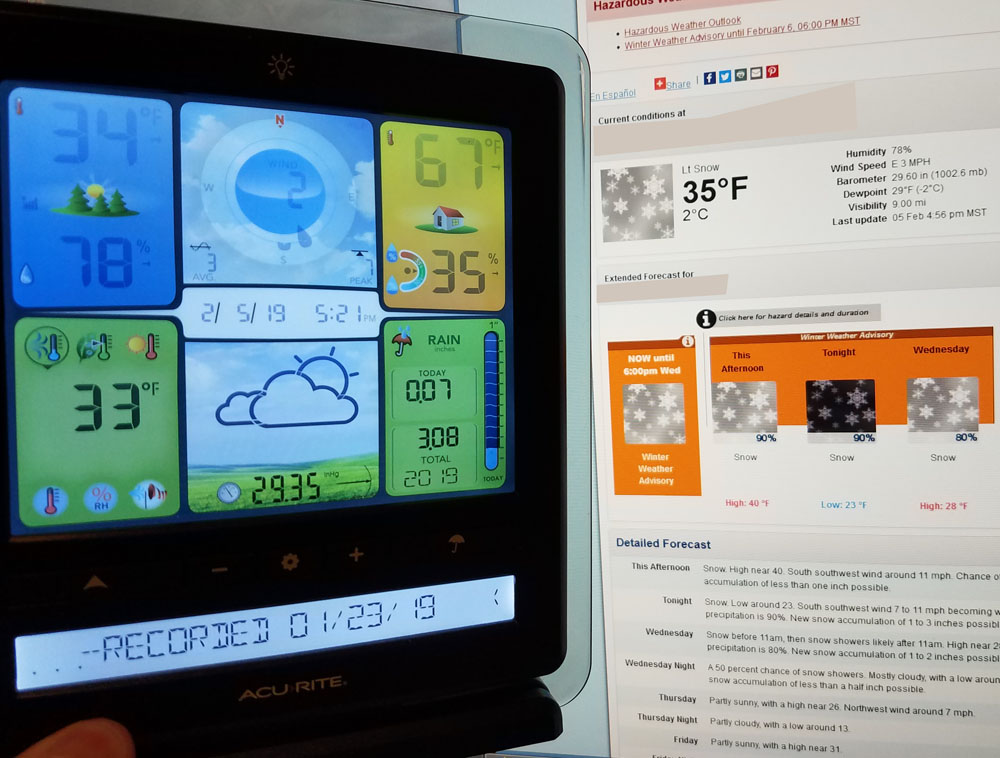 So what happened is that last night we had a huge storm move in. Both the AcuRite Weather Station and the NOAA website predicted mostly cloudy with snow. And it snowed dramatically. We must have had 8 inches or more. It drifted as high as a couple of feet in areas around the house. It was a wet, heavy snow. It remained cloudy and when I took this picture last night I knew that we would finally have a significant difference of opinions and a verified winner.
Which was a more accurate forecaster?
In the early morning it remained mostly cloudy and we did get some intermittent sunshine up until the mid afternoon. Then conditions worsened and we got about an inch of snow. I think if I had been depending on the AcuRite, in this particular case I would have felt let down.
So in this first major difference in forecast, the NOAA website won. I don't think I can really lawyer this and say that the AcuRite got it right partially right because we got the precipitation and the precipitation was significant. I'm not sure why it didn't foresee the precipitation but it missed the mark here. It's forecast has remained steady the last 20 hours or so and it didn't notify me of the snow.
The Verdict on the AcuRite Weather Station Forecast
I'll update this article if my opinion changes in the future, but right at this moment I'm really pretty happy with the AcuRite Weather Station. I think it's forecasts are reasonably accurate in general. I've seen the NOAA get things wrong before. Although I haven't tracked and compared the two sources of weather information in detail for longer than a couple of weeks, I've noticed that for the several months that I've had these weather stations, the AcuRite weather forecast feature has been reasonably accurate. I can't remember it letting me down in a significant way.
Right now the NOAA is predicting some early morning snow for tomorrow turning to partly cloudy and sun. We have to cut the AcuRite a bit of slack because, it only has a limited set of icons to to display and for now it's choosing to display mostly cloudy with some sun as tomorrow's forecast. I think we can say that this is another situation where it's pretty much in sync with the National Weather Service.
In any case, you know what they say. Close only counts in horseshoes and hand grenades… and of course weather forecasting.
As always, live ready!
Update – Next Afternoon
We did not get any morning morning snow that I was aware of. That doesn't mean that we didn't have any in the early morning hours, but I didn't see any this morning. Currently it's partly cloudy and I'm seeing intermittent sun. The AcuRite weather forecast, although it's very basic, once again is pretty much right on.