DeWalt Impact Driver Review
This really is a review for modern cordless impact drivers in general, but since I've owned the Dewalt brand cordless tools now for several years (and have beaten them to death), I feel qualified to comment on the merits of these amazing tools.
I remember way back in the day in the '80s when powered cordless screw drivers became available on the market. My father had contracted with a builder to build our family a new home and as is generally the case, his level of attention to detail exceeded that of the contractor. So when the framing was done he put a bunch of extra screws into the structural lumber to shore it up. He also did the same with the drywall after they were done putting up the sheet rock. To this day, after 30 plus years only a single nail has popped showing any imperfection in the finished drywall surface of the entire house.
The point of the story is that he purchased a cordless screw driver to put all those screws in. And at the time it seemed like a good idea, but after a few minutes it became apparent that his corded drill was a far better albeit heavier solution.
Enter the Modern Impact Driver
The main problem with a screwdriver or even using a drill motor to put a screw into wood is that at some point the friction on the screw makes it almost impossible to turn the driver without the bit coming out of the screw head … stripping the screw or the bit or both. An impact driver eliminates this problem. It delivers a great deal of torque and strong downward force in short bursts. Basically it eliminates a lot of the argument coming from the wood and coaxes the fastener into place in a much more civilized manner.
How an Impact Driver Works
Technically speaking an impact driver works according to the following principles:
Manual impact drivers consist of a heavy outer sleeve that surrounds an inner core that is splined to it. The spline is curved so that when the user strikes the outer sleeve with a hammer, its downward force works on the spline to produce turning force on the core and any socket or work bit attached to it. The tool translates the heavy rotational inertia of the sleeve to the lighter core to generate large amounts of torque. At the same time, the striking blow from the hammer forces the impact driver down into the screw reducing or eliminating cam out. – Source: Wikipedia
Popular mechanics did a great write up on a youtube video that shows a cutaway of an impact wrench, which operates on the same principle. Here's a link to the video on youtube: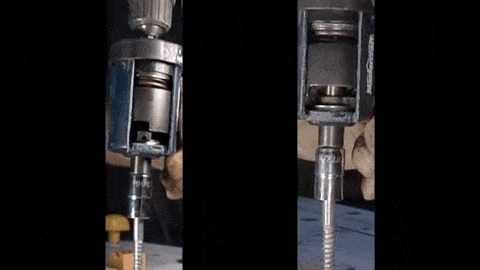 Uses of an Impact Driver
To state the obvious, the main purpose of an impact driver is to set screws into wood or other similar materials. Impact wrenches on the other hand are generally used with bolts in steel etc. But they can both be used in various situations. Driving big lag screws with an impact wrench makes a lot of sense. But many modern impact drivers will also do the job. And in they're not so bad for removing machine screws and smaller bolts.
Having a nail gun is certainly a plus when working with wood, but the efficacy of screws relative to nails is clearly superior. I've used the same DeWalt impact driver in a wide variety of situations over the last few years.
2000 square feet of drywall (at least)
Garden Boxes
Multiple Pergolas, Gazebos
Building Sheds
Shoring up framing
Working on other people's basements / projects
Building furniture
Assembling furniture (i.e. Ikea type of stuff or other stuff purchased online.)
Installing cabinetry
Decks / decking
Disassembly of mechanical / electronics / some appliances for repair etc.
etc. etc. … the list is endless
Being a fix-it-myself type of person … I almost want to take my impact driver with me on vacation. In fact I have. It works great to raise and lower the trailer's stabilizing jacks.
Comes in a Set
This write-up isn't supposed to be an advertisement for DeWalt. However I can say that I am very happy with my choice of tool in this case. I bought mine as a set. It came with the high-end compact drill driver. Let's see… it's the 20v Max XR brushless motor version. Here's a link to the latest version: Dewalt Impact Driver Compact Drill set … There's a lot to like about this set. The compact drill driver is much smaller and more handleable than my old combination 18v XRP hammerdrill / drill. I use it for almost everything now. In fact, I'm considering getting a rotary hammer for concrete work at this point. I thought that the larger combination drill would be the best of both worlds way back when I bought my 18v XRP tools, but it really doesn't do concrete holes very well. And I'm generally not drilling a huge number of 1/2 inch or greater sized holes in wood (i.e. 2x4s) where I need the extra torque. So it sits on the shelf a lot. In fact if you're like me you're going to find yourself drilling a few holes with the impact driver out of convenience. It's very handy. It's profile is almost as skinny (not quite) as the right angle drill.
Lithium-Ion Batteries
The new li-ion batteries are far superior to the old NiCADs in my opinion. Dewalt indicates that the old XRP NiCAD batteries would run 500-800 cycles. My experience was that this is unlikely. I think my XRP batteries failed well before 500 recharges. I did my best to extend their life. All the manufacturers are claiming that the li-ion batteries are going to do over 1000 cycles. My first set is still going strong. And I like that the lithium ion chemistry is more amenable to sitting around with a partial charge for longer periods of time without being recharged. They don't self discharge as quickly in my experience. And I do like the power meter on the back of the batteries. They are also much lighter. I ended up buying the DeWalt 20v to 18v battery adapter and it works great. Check it out in this link. The fact that they offer such a wide variety of sizes for these new lithium batteries is very cool.
Final Thoughts – Get an Impact Driver!
In spite of the fact that I've been using a DeWalt driver, I think that the other major brands also produce great tools. I have used some of them and I've seen others report great results with Milwaukee, Makita, Porter Cable etc. cordless tools. You can take the time and do your own search…
… but if you don't already have one, I highly recommend getting an impact driver. If you're like me you'll wonder why you didn't get one sooner.
Live Ready!
P.S. I've posted pictures of my actual DeWalt impact driver with this article, which I took tonight. After many years of hard use it still looks great.