TacStar Side Saddle Review
The receiver mounted shell carrier is must have improvement for the fighting shotgun. The TacStar Side Saddle in particular has been in service on combat shotguns for years.
The shell holder shown in this review is the standard TacStar SideSaddle. TacStar makes a few variants such as the TacStar Slimline SideSaddle which has a shorter vertical profile and has fully formed shell cylinders. They also make a rail mount that works in conjunction with the both side saddle products. It is aptly named a "SideSaddle." It's simply a shotgun shell carrier that rides on the side of your shotgun's receiver. TacStar makes both four and six shell varieties.
TacStar SideSaddle Design
The basic TacStar shell carrier design is an aluminum plate with an injection molded plastic shell carrier screwed to it. Steel machine screws hold the unit to the shotgun. Depending on your shotgun the screws typically replace factory fasteners.
The unit is simple. The plastic shell holder is slightly undersized creating spring tension which holds shells in the carrier. Shells can be inserted brass up or brass down. The shell carrier is robust. I've seen 20 year TacStars still trucking along after all those years of carrying shells.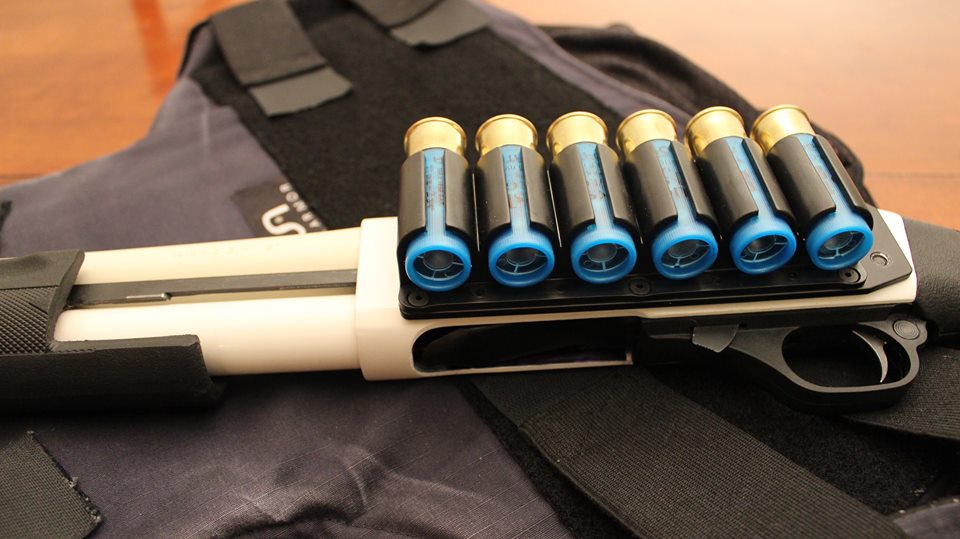 Service History
The TacStar SideSaddle has been a must have on a Law Enforcement Shotgun for years. In the past few years competitive designs have become more common. The fact remains the TacStar unit has dependably served for years.
Why TacStar?
There are a lot of competitive designs out there and some are better than others. TacStar offers a quality product at a reasonable price point. It is more durable and conveniently located than the stretch over butt stock mounted elastic units.
Velcro units are pretty hot stuff right now, and they do boast the ability to replace a spent shell carrier with a fresh one by tearing the old one off and affixing a new one. These still suffer from elastic fatigue and solvents can affect the adhesive glue that holds them to the receiver.
Using the TacStar
Using the TacStar side saddle is pretty easy. The unit firmly holds shells, however the shells are easily removed, or replaced when needed. Shell up carry allows for fast combat reloads, because the unit is so close to the shotgun's ejection port.
Bottom Line
The TacStar side saddle is a great unit at a great price with a great service history. As you can see, I'm using mine on my home defense shotgun shown in the photos in this article.
More information
For more information read our home-defense tactical shotgun info page.