Hogue 1911 Wrap-Around Grip
You know, there is an article here on LiveRede.com all about upgrading your 1911 with grip tape to improve grip on the front strap. To quote Dave, he calls it "the dreaded skateboard tape." Anyway, I have been thinking about 1911s lately. (Obviously, I know that guns are on everyone's mind these days. Am I right?) And I wanted to bring up the fact that I really like my Hogue "wraparound" 1911 grip.
When I picked up my first 1911, a custom Springfield in stainless that had been already been significantly modified, for some reason my first thought was to remove the rosewood grips and replace them with the black, wraparound, over-molded, rubberized grip. To be perfectly honest, I think it was because I had seen the grip on an M9 or 1911 (or something) used in the movie I am Legend with Will Smith. Well, anyway, that was the best move I've made on a grip so far. I really like this Hogue grip.
One of the great things about the Hogue OverMolded 1911 grip is that it is really not that expensive. You can find them online for between $20 and $30. Now on the other hand, skateboard tape, grip tape, or nonslip tape as they may call it runs you approximately $8 to $15. And admittedly you get about 20 feet of it for that price. So if you're really using your 1911 a lot you might have plenty to replace it with, when the adhesive finally wears off. If you want a more permanent and elegant solution, I'm going to break with Dave and say that you should go ahead and investigate Hogue wraparound, over-molded grip.
This grip has finger grooves that fit my hand perfectly. Hogue is well known for the tactile feel of their grips and this one is no different. The feel of it is perfect. And when you heft your 1911, you feel in total control. It is very comfortable to shoot. And it's a great looking grip to boot. I also think that my opinion is really not that far off of everybody else's. Amazon reviewers basically rank it 88% five stars. The rest are 6 stars. 😉
One of the few drawbacks mentioned by users online is that grip can be difficult to install. I really don't think that is an issue. Mine went on pretty easily. I think it might be a problem with those that already have texture on the front strap of their 1911. If you are having problems, the trick is to install the lower part of the grip first. Leave the screws a little loose. Then push the top section over each lug and install the screws on the top. And then tighten the bottom screws. This type of fitting and tightening should come as no surprise to someone who has even a limited mechanical background. This grip's installation requires nothing like the patience that is required for setting up IKEA furniture.
The Hogue over-molded 1911 grip is very durable. I've had mine on my pistol for many years and see no signs of wear. This is one of my favorite 1911's to shoot because of the grip. (And of course the custom trigger and competition sites.) The grip is impervious to water and oil, and should theoretically endure for generations.
As I indicated earlier, the grip is a really good looking on the 1911. That was the reason that I initially purchased it. (vanity?) But I certainly wasn't disappointed. I find it to be both tactical and tacticool. All in all, a 1911 with a full magazine is quite heavy, and the finger grooves and Hogue rubber make finding a positive and solid grip on the first try very natural.
The grip has Hogue's famous cobblestone pattern. It's subdued yet very effective. And of course it is made of Hogue's trademarked OverMolded[R] rubber. It is a "long–lasting, durable, thermoplastic elastomer that ages gracefully four years of service. It is virtually impervious to all oils and solvents that are associated with firearms." The "over-molded" designation basically means they bonded a soft, grippy rubber onto a hard polymer internal structure. In general this should reduce felt recoil while improving purchase and comfort. That idea generally relates to stocks and full grips. (Full disclosure, I've used and own several of their AR 15 grips also and love them as well.) But on the 1911 grip, there is no rubber on the back strap … obviously.
While we're talking about recoil, I think it's important to note that this grip does help with felt recoil. I think the reason for that is that it is very grippy and has the large finger grooves and is fat enough to really give the shooter a full-control feeling while firing the 1911. In my experience, I really do enjoy shooting my 1911 over someone's whose does not have the wraparound grip installed.
Since I made it a point to take issue with Dave's skateboard tape, I guess I'll mention one more thing. Do you really want to be replacing that skateboard tape every once in a while? Do you really want to have to worry about that in the heat of the battle? … the idea that you might get some adhesive on your hands? Maybe Dave likes it because he can use the tape as an emery board, and file his nails while he is sitting around in the doughnut shop with the other cops???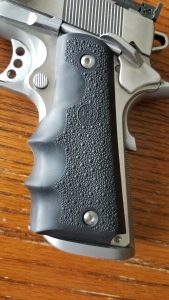 I can only imagine the scene. "Hey I'm going to get some more coffee and another doughnut," says he.
Then one of his colleagues politely asks, "While you're up, can I borrow your 1911? I've got a broken nail, and I need to file on it for a minute."
"Sure thing," he replies, as he deftly un-holsters the weapon, drops the mag, and ejects the chambered around into his palm. After handing the weapon to his fellow cop, he slinks over to the doughnut counter and orders up another one with pink frosting and colorful sprinkles.
Ahhh… Skateboard tape is probably the way to go.
In any case, I hope you found this review at least entertaining. As always live ready!